Winner 2023
GIVE US OUR DAILY BREAD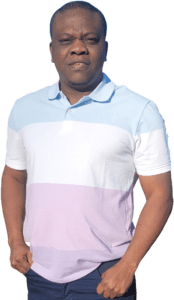 Kole Akintujoye of Give Us Our Daily Bread
Give Us Our Daily Bread wins Global Recognition Award
We are delighted to announce that this year, Give Us Our Daily Bread, founded by Kole Akintujoye, has been chosen as a winner of a 2023 Global Recognition Award. This prestigious accolade is well-deserved, given the company's unwavering commitment to their noble mission of ending hunger and touching the lives of countless individuals worldwide.
Since its inception in 2022, Give Us Our Daily Bread has been steadfast in fulfilling their mission. By providing nourishment to those who are hungry on a daily basis, the organization has demonstrated not only compassion but also tangible results, which is a testament to their dedication and effectiveness in addressing this critical global issue.
In addition to making a significant impact on the lives of those they serve, Give Us Our Daily Bread has also successfully fostered an engaged and supportive community. With over 54,000 followers on Facebook and 55,000 on their KoleAFoundation page, the organization has created a robust online presence and platform to share their important work with the wider public. This widespread support has undoubtedly contributed to the organization's ability to give a helping hand to those in need.
Furthermore, Give Us Our Daily Bread's success would not be possible without the strong leadership of Kole Akintujoye, who has been instrumental in guiding the organization's efforts to advance this critical cause. Under Kole's direction, the Give Us Our Daily Bread team displays dedication and commitment in every aspect of their work.
Ultimately, it is with great pride that we bestow a 2023 Global Recognition Award upon Give Us Our Daily Bread. We wish to extend our heartfelt congratulations to Kole Akintujoye and his entire team for their immeasurable contributions toward creating a brighter future for those grappling with hunger.