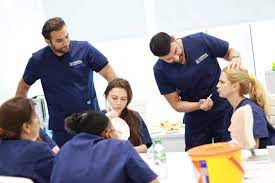 Derma Institute wins Global Recognition Award
Derma Institute has been awarded a 2023 Global Recognition Awards due to their exceptional achievement in the aesthetic medicine industry. The institute has established itself as a world-renowned academy, providing comprehensive and in-depth training to healthcare professionals around the globe.
The international reach of Derma Institute is truly impressive, having successfully launched branches in Australia, Canada, and India in addition to their UK academy. This level of expansion demonstrates not only their dedication to providing high-quality education to healthcare professionals but also their ability to meet the demands of a rapidly growing global market. 
Another major contributing factor to Derma Institute's success is their Level 7 Diploma in Aesthetic Medicine. As one of the highest levels of education in the field, this qualification equips healthcare professionals with the necessary skills and knowledge to excel in their practice. It is evident that Derma Institute prioritizes excellence in their training, consistently raising the bar in the quality of care provided within the aesthetic medicine industry.
Derma Institute's international accreditation further solidifies their esteemed reputation as a top-tier institution. With centers in the UK, India, Australia, New Zealand, Canada, and the Middle East, the academy is recognized for its unparalleled educational offerings by a plethora of renowned organizations, including the OTHM, CPD, and Royal College of GPs Canada.
Their extensive staff of over 50 trainers worldwide highlights the scope of their expertise, ensuring students receive the highest quality of education in courses such as the Beginner Botox and Dermal filler Course. The array of CPD accredited courses and accreditation as an OTHM center showcases Derma Institute's commitment to maintaining and exceeding professional standards.
Receiving rave reviews from over 1,000 trained healthcare professionals is no small feat, but Derma Institute has managed to consistently impress its students. This accomplishment differentiates Derma Institute from competitors, such as Elite Academy, Viva Academy, and Bob Khanna Academy. The outstanding 4.9 rating out of 5 for customer satisfaction is a testament to the academy's unwavering focus on the needs and success of their students.
In summary, Derma Institute has truly demonstrated its commitment to providing world-class education in the field of aesthetic medicine. Their global expansion, Level 7 Diploma offering, international accreditation, and an outstanding team of trainers all contribute to their well-deserved 2023 Global Recognition Awards. Derma Institute has not only raised the bar for excellence in training but has set a new standard for educational institutions around the world.